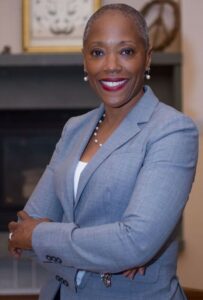 Currently Director of Individual Giving, Sharon Duncan has held several positions with Dance Theatre of Harlem, including Director of Development and Director of Administration. She was the former Director of Arts Education for the Alvin Ailey Dance Theater and the former Director of Development for the Thurgood Marshall College Fund. Sharon is a graduate of Howard University where she received her BS in Human Development. She was awarded an MA in Arts Administration from Teachers College, Columbia University and a CFRM from the Center on Philanthropy at Indiana University and is a fellow of the James P. Shannon Leadership Institute.
WID: As an arts fundraiser, what are opportunities and challenges your organization is experiencing as New York enters recovery from Covid?
Sharon:  We have been able to start seeing some of our donors in person!  In August we participated in Lincoln Center's BAAND Festival, which included Ballet Hispanico, Alvin Ailey American Dance Theater, American Ballet Theatre, and Dance Theatre of Harlem in mixed-bill programming. It was truly exciting to be together (out-of-doors) enjoying dance. There was so much energy in the audience and on stage, and the opportunity to see donors, colleagues, and live dance again was thrilling. Most recently, we hosted an intimate salon event for a group of major donors and prospects. It was good to sit face-to-face and spend time together. 
This fall, the DTH School resumed a hybrid model for students to take class, however, our facility is not open to the public and most of our staff are still remote.  We were fortunate to be able to keep our artists on payroll last year thanks to the many individual supporters who responded to our emergency relief fund, as well as institutional support from foundations, the government, and other relief programs. Our dancers produced most of the content shown on YouTube and on our social media channels last year, which kept us connected to our supporters. Though we have been extremely successful in offering this virtual programming to the community, it is more challenging to produce content now that the Company is back to work and touring. 
WID: How have the funding interests of donors changed from before the pandemic to now?
Sharon: DTH donors remained loyal in their generosity to us during the pandemic. In March 2020, DTH launched an Emergency Relief Fund in response to Covid-19, which resulted in a loss of $1.4 million in revenue for the organization. The Emergency Relief Fund raised nearly $450,000.  We transitioned into the DTH Forward Fund in November 2020 to continue to request support for general operations, shifting our messaging from "crisis" to one that recognized we were embracing the new reality that Covid-19 put before us, and we would still move forward and work toward fulfilling our mission. The Fund raised over $84,000 in individual support.
The global pandemic and the rise of a new social justice movement have both demonstrated that DTH plays an important and critical role in America's cultural landscape. We are optimistic that our impending year-end campaign will be as successful; however, we are realistic that we will see some decline in support.
WID: How has WID been helpful to you in your career and as a leader in the Development field? 
Sharon: Networking! WID has made it possible to gain colleagues who have become friends with whom I have been able to share ideas and gain new insights.  Over the years, I've appreciated the luncheons and variety of guest speakers that have been a part of WID.  I am really looking forward to the spring luncheon!