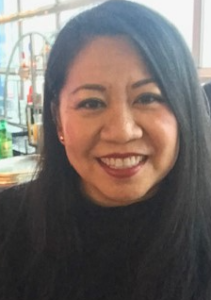 Carolyn Antonio is a NY/NJ-based writer and non-profit development worker. She has been in the publishing, arts and culture, and non-profit fields for over two decades. Currently, she is serving as Chief Development Officer at Womankind (formerly, New York Asian Women's Center), a social service and social change agency working with primarily Asian immigrant survivors of gender-based violence. Prior to Womankind, she served as Director of Development and/or development consultant for a number of NYC Asian and non-Asian community nonprofits.
Carolyn was a founding committee member of FAM (Filipino American Museum) and is a member of Sari-Sari: Women of Color Arts Coup, which implements community-focused arts programming. Carolyn has been involved in Filipino and broader Asian American community organizing, along with a life-long focus on women's, racial, economic, and social justice issues, especially within communities of color. She is collaborating with two other Filipina writers on a play to be mounted in NYC in Fall 2022 called, "Export Quality: Monologues Drawn from True Stories of Mail-Order Brides from the Philippines." She strives to be present and is learning to (re)ground herself in nature.
WID: Womankind has a unique mission, serving survivors of gender-based violence, with a focus on those of Asian heritage. Did Womankind's work take on any new or different meaning during COVID-19?
Carolyn: Yes. We had to pivot quickly to meet the evolving needs of the primarily immigrant survivors we serve. With COVID-19 related lockdowns in place, many of our survivors were trapped at home with those that cause harm, further compounding trauma. At the same time, an already disenfranchised community faced intensified food insecurity due to job losses, along with suffering from increased fear outside the home with rampant anti-Asian violence. Thankfully, we were able to be nimble and respond. For example, our 24/7 helpline equipped with 18+ Asian languages plus Spanish, already had a text/chat feature that provided individuals with another way to reach out beyond speaking on the phone. We were also able to leverage trusted relationships with donors to help create a fund that directly supported survivors with their emergency cash needs in a way and scope that was one of the biggest ever in our history. We worked with unexpected, multi-disciplinary (non-social service) partners for a series around anti-Asian violence, exploring past, present and future – we did this because we see our gender-based violence work as intersectional, and as connected to a larger context.
WID: You were recently promoted to the position of Chief Development Officer of Womankind. What strengths do you bring to your new role after serving the organization for over eight years? 
Carolyn: After eight+ years of being at Womankind, I bring with me a lived understanding and analysis of our strengths and areas of challenge and a more strategic framework for fusing fundraising and creative external communications to meet our goals. I also bring improved ways of collaborating (based on lessons learned) with our Board, various committees, donors, allies, the survivors we engage in development efforts, and colleagues from other departments. This includes pushing beyond our comfort levels and utilizing my experience in arts/culture to bring an interdisciplinary approach to our development work. None of the above would exist if it were not for my commitment to foster good communication, stronger relationships, and trust with these various stakeholders and the talented individuals with whom I work most closely.
WID: How has WID been helpful to you in your career and as a leader in the Development field?
Carolyn: WID's networking events and community have been a trusted source for professional development for me. Even if I don't attend every single event, knowing that WID is an existing resource that I can easily access (e.g., the webinar series) is fuel not to feel alone in the hard work we do as nonprofit development professionals.
WID: What upcoming WID events are you most looking forward to?
Carolyn: I am looking forward to being able to meet in person more to network and share current knowledge at a time of great change and potential as we reimagine many things. I am also excited to note the efforts to diversify the membership of WID, and to push the thinking and capacity of our field to meet the needs of today and the future with a heightened commitment to justice.