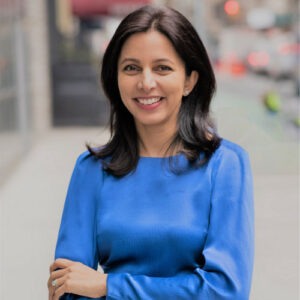 As the Assistant Dean of Alumni Relations and Fundraising at New York University, Sonal Pande is charged with spearheading the domestic and global alumni outreach programs and services aimed at strengthening and engaging the School of Professional Studies' alumni community.
With over 16 years of experience in leadership gifts, capital campaigns, institutional giving, board management, alumni relations and development operations in the USA and the UK, Sonal previously served as the Head of Major Giving for Prostate Cancer UK and as a Major Gifts Fundraiser for the Royal National Institute of the Blind in the UK.
She also serves as Vice President of the Parents Association at Horace Mann School and served as 2021 Benefit Chair raising $1.2M in support of financial aid. She is an Independent Director on the Board of Monmouth Real Estate Investment Corporation.
Sonal earned her MPA from Columbia University, an MBA from BHU (India) and a B.S. in Mathematics from Bangalore University (India).
WID: Many institutions of higher education have had to adapt their entire organizational structure this past year to meet the needs of students and their communities. What are some of the challenges and opportunities you have experienced in alumni relations?
Sonal: The alumni relations playbook hadn't changed much in decades. In-person event centric strategies did not leave much room for digital initiatives that were invariably an afterthought. However, with our alumni base skewing heavily international over the past decade, our strategy included launching several digital initiatives that held us in very good stead and allowed us to shift to a fully virtual mode of operation effortlessly as we abruptly pivoted during the pandemic.
The new, digital normal has led to interactions with alumni that are less onerous on their schedules and more accessible. A busy parent can join in a quick networking hour before tucking their kids in bed.  The 20-something alumna working irregular hours can watch the recording of last night's alumni panel discussing industry trends. This new convenience gives us the opportunity to reach more people than ever before.
Our new ability to focus exclusively on the need-to-haves, such as impactful content and an effective format that heightens loyalty to the institution, strengthens our events, and allows us to serve alumni at a scale that was not financially feasible before. Not only are events more accessible and less expensive in our new digital world, their scalability also allows us to make them more interesting to our constituents. The relatively low cost of producing virtual events grants us the ability to focus on more niche topics that may appeal more strongly to a smaller segment of alumni.
Now that we've had time to adjust to our new normal, it's time to take stock of how the shift online has altered the very fabric of engagement programming—and how the transformation of alumni relations' business model will better serve our constituents and our institutions in the future. Hybrid events with livestreaming available for remote alumni and donors who are unable to attend in person will be an equally important and expected compliment to in-person events. Smaller, more frequent events, rather than a few high-cost marquee programs, will draw in audiences that have historically been unwilling or unable to engage with the institution.
WID: How has WID been helpful to you as you have progressed throughout your career?
Sonal: Being a part of the WID family has exponentially expanded my professional network and given me the wonderful opportunity to meet women with shared career interests. It is a safe space to discuss challenges in our roles and to learn from each other. I find the events and webinars hosted by WID very timely and relevant to current trends in the industry. WID has also provided me with an opportunity to give back and support fellow advancement professionals as they navigate their careers in this sector.
WID: As a WID board member, what advice can you provide to newer members about how to best engage with the organization?
Sonal: Throughout my career, I've been fortunate to have great mentors who were willing to take a bet on me and provide meaningful opportunities for growth. These mentors have taught me about what is important (both personally and professionally). I would encourage our newest members and especially young professionals to proactively network and mentor within WID's rich roster of experienced professionals. Be proactive and reach out — you will find honest and invaluable advice — and maybe even your next big break!
WID: As a member of the WID Communications Committee you oversee our social media platforms. What are some of the ways WID's social media presence has developed since the start of the pandemic? How has this affected WID's engagement with its members?
Sonal: Post pandemic, with more people working remotely and looking for virtual connections, WID has seen the need for a more fluid social media strategy. Another trend we've seen with our users is that social media use is up, as much as 20% compared to the previous year. Additionally, consumption is consistently higher throughout the week.
Our social media has evolved to promote greater WID initiatives including thought leadership, events, newsletters, President's musings and member spotlights. We have an exciting new rebrand of the organization that we incorporate in all our postings giving our social media pages greater stylistic consistency setting up apart in a busy feed. In terms of next steps, we aim to launch lives on our LinkedIn and Instagram pages to engage with newer audiences. We are constantly looking for social media savvy volunteers to help us so if you are interested, please reach out!