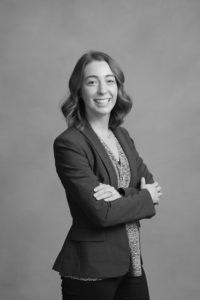 Nichole Guerra, Director of Development and Communications, Holy Apostles Soup Kitchen
Managing During COVID-19
WID: What was it like in the early days of the pandemic? How did Holy Apostles Soup Kitchen respond to the increased need for food and the requirement for social distancing?
Nichole: The early days were rough. Normally, we rely on 50-60 volunteers to help us serve over 1,000 meals every day to New Yorkers experiencing hunger, hardship, and homelessness. But when Governor Cuomo declared a state of emergency, we had to suspend our volunteer program and transform our operations overnight. On Friday, March 13, we announced the changes, and on Monday, March 16, we were handing out bagged lunches in the courtyard of our Church on 28th and 9th in Chelsea.
We've served through other disasters in the past – including a parish fire, the tragic 9/11 terrorist attacks, and during the blackout that followed Hurricane Sandy – but the uncertainties presented by COVID made this time different. We knew we weren't going to be able to host our traditional, sit-down meal service for months to come and we knew that as hard as it would be for our staff and volunteers to adjust to the changes, it'd be so much harder for our guests who've come to view the soup kitchen as a place where they can access not only a warm meal but a community where they can be treated with dignity and respect.
Knowing that we needed to prepare for several months, if not longer, of a modified meal service, we quickly secured the supplies and equipment needed to provide and distribute wholesome, hot meals instead of bagged sandwich lunches. In addition to our own culinary team, we have a network of culinary figures who support our annual fundraiser, Farm to Tray. We reached out to a few of our culinary partners, who were able to activate their networks of suppliers, purveyors, restaurateurs, and others to facilitate food and supply donations in the early days of the crisis. This bought us a couple of weeks to revamp our fundraising strategy in anticipation of a severe food crisis in NYC.
WID: How did your fundraising and communications strategy change in response to Covid-19?
Nichole: Our leadership team knew that in order to meet the increased demand through the summer, we were going to have to raise at least $1MM. Normally, our annual Farm to Tray fundraiser brings in revenue to support the soup kitchen's summer operations, but like many other nonprofits, we had to postpone the event and come up with an alternate fundraising strategy that relied solely on digital means. For an organization of our size, raising $1MM would be a herculean task that required a concerted effort to generate press and earned media. Because we are so grassroots, we don't have a dedicated budget for PR, branding, or any of the other bells and whistles that larger nonprofits can access, but what we do have are meaningful, long-lasting relationships with an array of small businesses and individuals who care deeply about the soup kitchen's mission. So we humbly asked those partners if they could offer any pro-bono services, and we are so grateful that so many viewed the request as an opportunity to serve their community while also staying home to flatten the curve. With their help, we launched Operation HopeFULL, a $1MM campaign that rallies support from the broader New York community to ensure those struggling with hunger and hardship have access to food, clothing, toiletries, masks, and other supports.
We were able to secure a pro-bono communications firm to assist with press outreach and we were also spotlighted in the New Yorker, both of which raised the visibility of our work on the front lines of NYC's hunger relief efforts. We coupled the earned media strategy with a social media influencer strategy to reach an even wider audience, which helped us secure an unprecedented amount of support from new donors across the country. We even received a few donations from overseas!
It's also important to note that we prioritized solicitation of foundation support, which typically is not a very large source of revenue for us. Because we received emergency funding from the Robin Hood Foundation as well as the New York Community Trust's NYC COVID-19 Response and Impact Fund, we were able to hit the $1MM mark and have hopefully raised enough funding to provide an increased number of meals at least until end-of-year fundraising starts coming in.
WID: Working for such a grassroots organization, did you become personally involved in the Kitchen's response (food distribution, etc.)? What did that mean to you?
Nichole: Yes, but more so in the beginning of the shutdown. In addition to losing our daily volunteer groups, we've also experienced our own staff turn-over, so some days require "all hands on deck." I'm humbled to be able to serve our neighbors, and I am also currently the sole person on our Development team. It's incredibly challenging to balance the need to be at your desk or on the phone with donors with the need to be on-the-ground. And it's even more challenging to aim for work-life balance. I've found that being completely transparent with donors about the delay in my getting back to them or sending a timely thank you card has been well received. And I've also found an amazing source of support and empathy from other Development professionals. We really are an amazing industry and I'm grateful for the new friends I've made thanks to membership groups like these!
WID: Please share a story of a donor who really stepped up in a profound way to respond to the increased need.
Nichole: I don't want to single out a specific donor because all of our donors, whether they gave $3 or $3,000, have all stepped up over the past several months to ensure we can stay open and respond to the increased need for food assistance. I can't tell you how many phone calls, letters, and emails I received from donors offering some of their stimulus payment to help provide meals to New Yorkers who are struggling the most during the economic fallout of the pandemic. New Yorkers are known for coming together during rough times and while our donors knew they were helping by staying home and flattening the curve, a lot of them wanted to do more to help our neighbors who have been most impacted by the crisis. As a fundraiser, it's my job to provide a tangible way for them to do that. That's in part what inspired "Operation HopeFULL," because it offered hope not only to the soup kitchen's guests but also to everyone who felt paralyzed because they wanted to help but knew they shouldn't leave their homes.
WID: How has your experience at Holy Apostles' Soup Kitchen during Covid-19 changed the way you think about your job, the role of development, and/or the role of the non-profit sector? 
Nichole: Working at a grassroots emergency food program during both a medical crisis and a food crisis has underscored the importance of offering general operating support to nonprofits and debunking the overhead myth. Over half of the city's food pantries and soup kitchens were forced to close early on in the pandemic, which exacerbated the already dire food crisis. They were forced to close because they lacked the financial resources and the workforce needed to stay open. I'm incredibly grateful that much of Holy Apostles Soup Kitchen's funding is for general operating because if it weren't, we very well could've been among those who had to close their doors for business. We were able to be nimble and flexible in our hunger relief efforts because our donors and funders trust us to be responsible stewards of their resources. I know this isn't the case for most nonprofits and I strongly believe all of us can play a role in educating others on the importance of general operating support and overhead/admin costs in creating a healthy sector. The pandemic could offer a compelling opportunity to debunk some of the existing mindset around these issues and shift the conversation in a way that centers trusting relationships between funders and nonprofits.