The following interview of Dr. Ruth Browne was excerpted from a Sanctuary magazine article by managing editor,  Myrna Beth Haskell.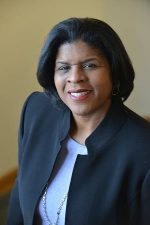 Before taking on the role of CEO of RMHNY, you were the founding CEO of the Arthur Ashe Institute for Urban Health. What did you learn in your previous nonprofit role that you were able to bring to your current position?
I learned a lot. I thought it would be a huge change, but there are similarities.
I was coming from an organization [Arthur Ashe Institute] that utilized active, community-based research that enabled us to address social determinants for health and health equality. We strived to ensure quality care for underserved groups, and our partnerships were an integral part of our success. We leveraged skills from many organizations – corporations, academic institutions, community organizations and private sector businesses.
Ronald McDonald House New York serves the community by providing assistance to families who are struggling to maintain normalcy for their sick children. We provide transportation, economic assistance, lodging and a variety of programs. We also utilize strong partnerships with over 400 corporations and 8,000 volunteers. We depend on our incredible volunteers. Our nightly volunteers are dedicated individuals who come rain or shine to serve…and we serve meals to up to 400 people at night. They are there to help with family activities as well. More recently, we started to provide lunch. We have a civic team that cleans the house and organizes playroom and day activities. We continue to look for volunteers who can bring experience in business operations and strategic planning. We are the most unique 'hotel' in the world.
What do you find to be challenging about running a nonprofit, and what do you find most fulfilling?
All nonprofits work with very little to create miracles. We are serving sick children, those with rare and aggressive forms of cancer, and their families. We pray for a miracle to help these families, but regardless of the outcome, we create positive memories for them. Since we are a unique hotel, we are looking to create a hospitality council. It takes a village to do miracle work.
Besides providing a comfortable room, support and the convenience of a kitchen, laundry facilities and on-site parking, RMHNY provides support services, educational programs and family activities. Families are never turned away due to inability to pay.
The challenging aspects…we are looking for ways to diversify our funding stream.
RMHNY has several services and programs that families can take advantage of, such as Music Education and Great Days. Do these types of programs provide a sense of normalcy for the families?
We are in the business of health and healing. We want to make sure families are together. We operate with 'kids first' in mind, not 'kids with cancer'. With peer to peer support, these kids feel normal – they're among their peers. You also can't feel normal as an individual or family unless you have basic needs taken care of – that's where we come in with language access, economic assistance, and lodging and meals. We have a wellness center [The Blavatnik Family Foundation Wellness Center] which provides respite and self-care support for the caregivers. These caregivers don't think to take care of themselves – but it's so important for them to have strength for their kids.
How are families selected?  Is there a waiting list?
In In order to stay at RMHNY, a patient and his/her family has to be recommended by a social worker at a cancer treatment center at one of our partner hospitals. The hotels in New York City are not sustainable for families that are challenged economically.
We house families from other parts of the U.S. (about 50%) and about 40% of our families are from places outside the U.S. We are one of two houses in the entire Ronald McDonald House organization that is primarily focused on pediatric cancer patients (the other is in Brazil).
I read that RMHNY has a "Family Room" at Kings County Hospital. What is this?
This hospital is one of 11 public hospitals in the New York City area. It is in central Brooklyn, a medically underserved and under-resourced area of the community. This 'family room' provides a respite for caregivers of patients in the NICU (Neonatal Intensive Care Unit) and the pediatric cancer unit. The family room provides a comfortable place to rest, including meals, snacks, and activities. Part of our growth strategy is to provide additional family rooms at other New York City public hospitals.
Can you tell me about the recent capital expansion initiative? Is this still being built? 
The renovation is completed. It was a 26 million dollar renovation. The house now provides 95 rooms, and we feed around 400 individuals per night. Some of the improvements were aligned with being able to house transplant patients who need to be segregated from the rest of the community. We now have six post-transplant suites that are equipped with a kitchen, laundry machines and handicap access. There is an upgraded climate control system where patients and their families can regulate the heat/air in the room as they recover from treatments [extremely important for these patients who need to be able to change the temperature of the space].
Years ago, 75% of our children did not make it. Today, we have an 80% survival rate.
Do you have the opportunity to meet any of the children and their family members? Has there been a situation that has particularly resonated with you – one that drives you forward and fuels your passion to help these families in need?
My office is right at the house, so I'm very engaged with the families. I meet with them every day. This is important when you need to consider how to strengthen the programming and services you are offering.
February [was] Black History Month in the U.S., and I see that you are a member of the Coalition of 100 Black Women, Manhattan Chapter, a nonprofit which advances leadership opportunities for African-American women and girls. What is the extent of your involvement with this organization?
I've been involved with the organization for several decades. My grandma was a founding member.
In the 1980s, I had a role that was similar to an internship – I was being mentored, and I learned a lot about nonprofits and how to run things. The organization is focused on encouraging more African American women to be involved in policy-making decisions and in leadership positions. I served two terms as president of the Manhattan chapter, and I was on the National Board of Directors.
Where do you find sanctuary?
I am my happiest when I am dancing! It keeps me grounded. Even when I travel, I dance. One of my goals in life is to learn every dance there is.